SOCIAL PARTICIPATION IN THE ENVIRONMENTAL FLOW ASSESSMENT: THE SÃO FRANCISCO RIVER CASE STUDY
Resumo
Traditionally, water resource management has been developed using an essentially technical approach. Currently, public opinion on water resource management is formed as a result of growing environmental concerns and social conflicts arising from poorly planned actions. Environmental problems are complex and have multiple dimensions, including social and economic. Therefore, the inclusion of a human dimension in integrated assessment methodologies is required for the introduction of new elements to the water management planning process. Environmental water allocation (EWA) is understood as the quantity, quality and distribution of water required for the maintenance of the functions and processes of aquatic ecosystems on which people depend. Within the various holistic assessment methodologies, the Building Block Methodology (BBM) was found to be the most suitable, in the Brazilian context, for maintaining and restoring essential elements of the natural flow regime. This article describes the process of social participation in the environmental flow assessment (EFA) for the Sao Francisco River, and compares it with some of the lessons learned from EFA in other parts of the world. The process involved multiple stakeholders who have conflicting interests. BBM was used to guide the field interviews, to incorporate the empirical observations by the local population and to guide the methodological procedures of the multidisciplinary team. The results of the study indicate the effectiveness of this holistic approach in organizing the elements to be evaluated. It also facilitated important contributions to the establishment of a dialogue between the actors to achieve a better understanding of the multiple aspects involved in the decisions associated with the EWA.
Downloads
Não há dados estatísticos.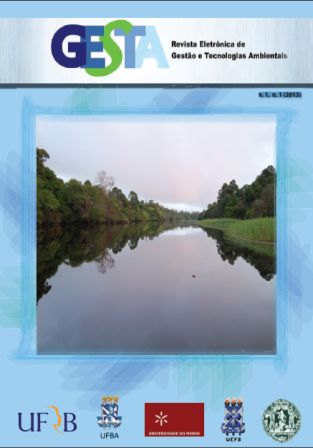 Downloads
Como Citar
Dantas Pinto Medeiros, Y., Marília Pinto Freitas, I., Maria Stifelman, G., Rodrigues Freire, R., & O´Keeffe, J. (2013). SOCIAL PARTICIPATION IN THE ENVIRONMENTAL FLOW ASSESSMENT: THE SÃO FRANCISCO RIVER CASE STUDY. Revista Eletrônica De Gestão E Tecnologias Ambientais, 1(1), 122–130. https://doi.org/10.9771/gesta.v1i1.7110
Licença
Autores que publicam nesta revista concordam com os seguintes termos:
Autores mantém os direitos autorais e concedem à revista o direito de primeira publicação, com o trabalho simultaneamente licenciado sob a Creative Commons Attribution License que permitindo o compartilhamento do trabalho com reconhecimento da autoria do trabalho e publicação inicial nesta revista.
Autores têm autorização para assumir contratos adicionais separadamente, para distribuição não-exclusiva da versão do trabalho publicada nesta revista (ex.: publicar em repositório institucional ou como capítulo de livro), com reconhecimento de autoria e publicação inicial nesta revista.
Autores têm permissão e são estimulados a publicar e distribuir seu trabalho online (ex.: em repositórios institucionais ou na sua página pessoal) a qualquer ponto antes ou durante o processo editorial, já que isso pode gerar alterações produtivas, bem como aumentar o impacto e a citação do trabalho publicado (Veja O Efeito do Acesso Livre).